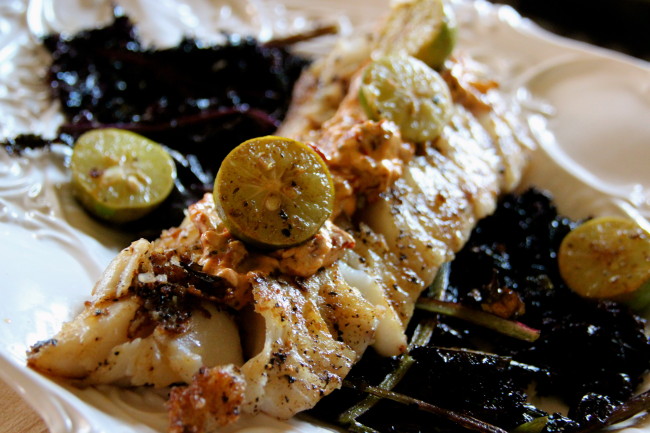 Great fresh seafood is at my doorstep here in New England and I certainly enjoy it as much as I can. Living in the number one fishing port in the US certainly has it's advantages! I love to take a fresh piece of fish, this time Pollock and pan sear it accompanied with a cream sun dried tomato sauce and sautéd purple kale. Wow!! This is great way to enhance the delicate flavours of this fish….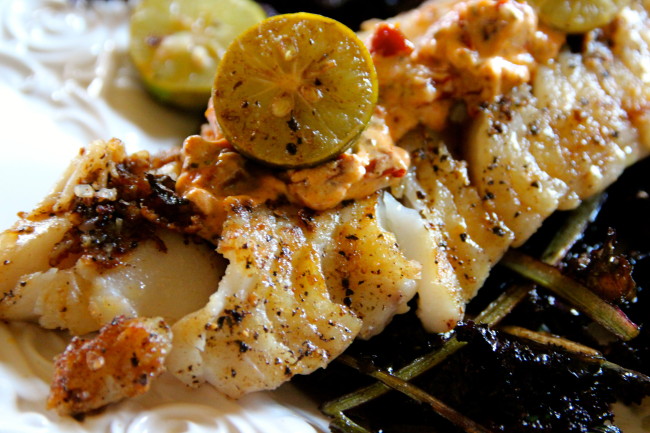 The Recipe!
One fillet per person (about 1/2 lb)
Approximately 9 fresh kale leaves, cut in to trips
Extra virin olive oil
Butter
Sea salt and fresh cracked pepper
Several key limes, halved.
The Sauce:
1 teaspoon of sweet paprika
1/4 cup of chopped sun dried tomatoes (packed in oil)
1/2 cup of sour cream
1/4 cup of heavy cream
1 1/2 tablespoons of whole grain French mustard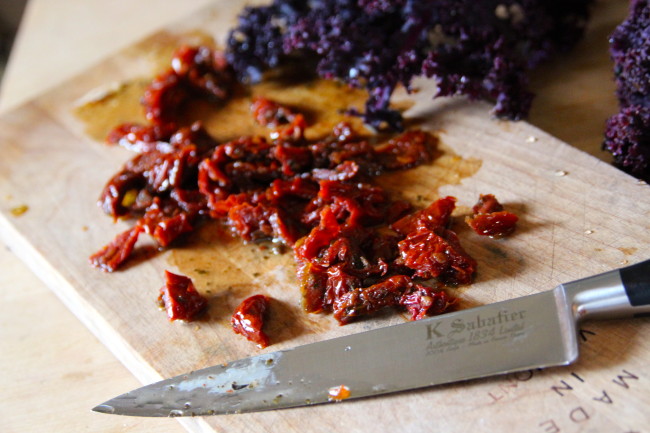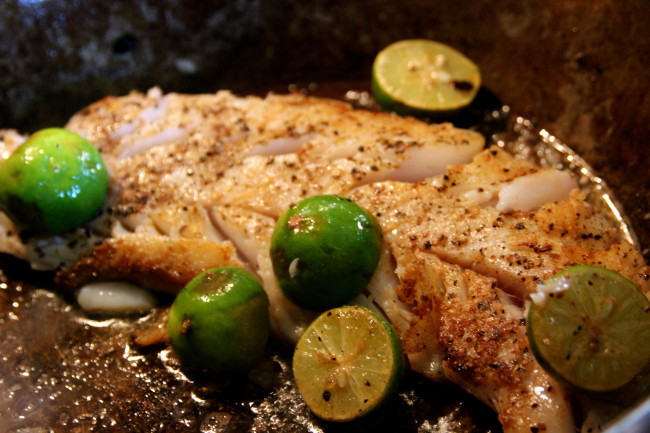 La Methode!
For the sauce, add all of the sauce ingredients into a small saucier pan and heat on low, stirring occasionally.
In a large sauce pan, heat 2 tablespoons of butter and two of olive oil on a low to medium heat. Add the kale and sprinkle with salt and pepper. Sauté until tender, stirring occasionally, about 10 minutes. Remove from pan and keep warm in a covered bowl.
In the same kale pan, add two more tablespoons of butter, two of oil over a low to medium fire. Season the fish on both sides with salt and pepper. If using a thicker cut fish like I did (pollack or cod) heat on one side for 5 minutes and gently turn. Add the limes to the pan. Cook for another 4 minutes, or until it flakes easily. Place the fish on the kale and top with the cream sun dried tomato sauce. Voila!