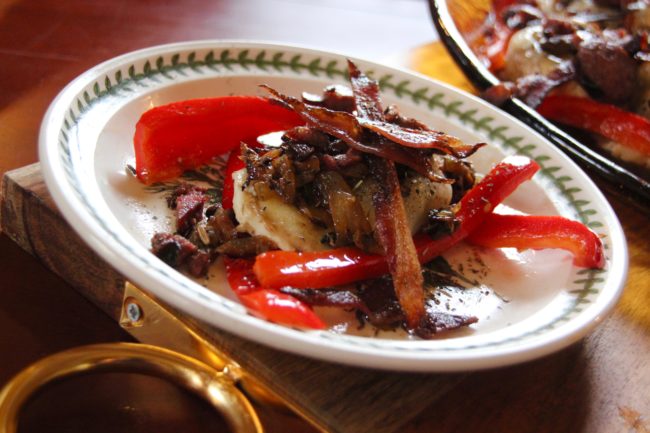 This is dedicated to my father, Hervé Leo Damase Bernier. An amazing chef, an a amazing man and father…
This recipe contains many things my father adored – so I lovingly created this dish in his memory, the anniversary of his 104th birthday.
I Love you Dad….
The Recipe!!
6 large white mushrooms, or Portobello

1 large shallot, diced
1 cooked sausage link ( I used duck and cooked it over a wood fire)
3 strips of bacon cooked and sliced into long thin strips ( I use Trader Joes BlackForest Bacon.. its surreal)
1 large sweet red pepper sliced into long thin strips
6 small eggs
1 cup of shredded emmentaler cheese
Herbs De Province
Sea salt and fresh ground pepper
Butter and extra-virgin olive oil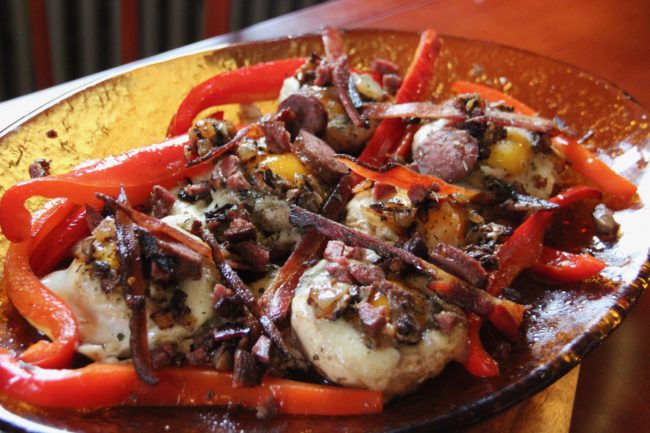 La Methode!
Hollow out the mushrooms by removing the stems. Chop the stem pieces in to a small dice.
Sauteé themushrrom pieces and shallots in 1 tablespoon of butter, one of olive oil. Add salt and pepper to taste.
Meanwhile, re-warm the bacon and sausage until some fat renders, about 5 minutes over a low-medium heat. When done, put in a bowl and keep warm.
Sauteé the red pepper strips in the pan with the bacon and sausage fat, adding salt and pepper to taste. Cook until slightly tender. Place aside in a warm place.
Place 2 tablespoons of butter, two of olive oil in a large pan over a low-medium heat. Place mushroom caps in it, sprinkle with salt and pepper and cover, cooking for about 10 minutes.
Dump any excess mushroom juice out of the caps and crack one egg in each. Top with shredded cheese and cover, cooking for another 15 minutes on a low-medium heat. You want the egg to be a little runny, so check occasionally by pressing on the yolk for doneness.
Place the red pepper strips on a warm plater and place the mushrooms on top. Top everything with the sauteéd mushroom and leeks, diced sausage and chiffonade bacon. Sprinkle with herbs de province.
Bon appetite!!