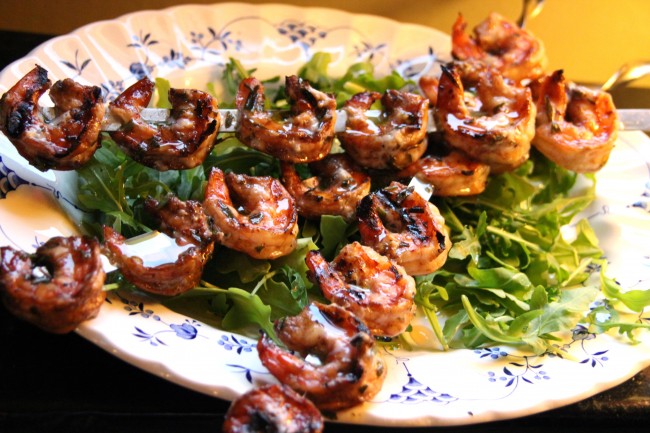 Succulent marinated shrimp on the grill is one of my summertime favorites. Here are some serious summertime seafood flavours.
The recipe!
~~~~~~~~~~~~
2 lbs of extra large shrimp
Marinate
~~~~~~~~~~~~
1/2 cup extra-virgin olive oil
1/4 cup balsamic vinegar
2 tablespoons of fresh rosemary, minced
4 tablespoons of brown sugar
Pinch of sea salt and fresh cracked pepper
Whisk all of the above ingredients in a medium sized bowl well and add 2 lbs of extra-large shrimp, tossing well and covering with plastic wrap. Refridgerate and marinate 1-2 days, tossing occasionally.
Place shrimp on skewers as shown in picture and cook on a high charcoal fire, cooking each side for about 2 minutes. Place on a bed of baby arugula and drizzle with extra virgin olive oil (I used truffle oil). Bon Apetite!!