Roasted cauliflower and leek are paired with Comte cheese, bread crumbs and roasted sweet tomatoes for a delectable main course meal. Let's welcome spring with this healthy, great tasting and very satisfying gem.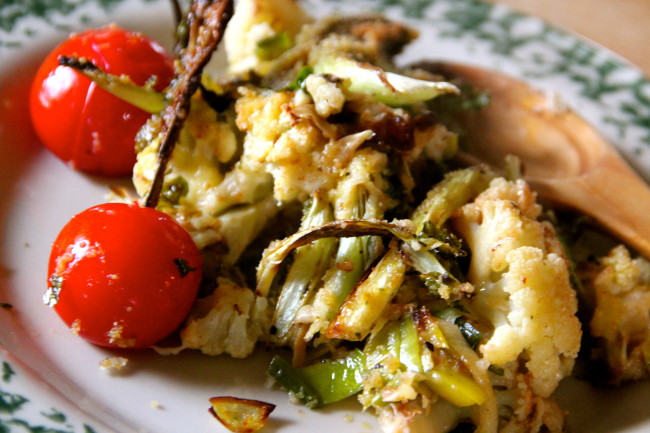 The Recipe!
1 large head of cauliflower
2 leeks
9-11 small sweet tomatoes (like cherry or grape)
1 cup of flavoured bread crumbs
1 1/2 cups of shredded Comté cheese (you may substitute with another cheese)
Extra virgin olive oil
Sea salt and fresh cracked pepper
La Methode;
Pre-heat oven to 400 degrees.
Cut cauliflower into florets and cut the leaves from the bottom of the cauliflower into slightly smaller pieces.
Place cauliflower and leaves in a large bowl and gently toss with 1/3 of a cup of extra-virgin olive oil, coating well.
Place cauliflower on large baking/roasting trays and sprinkle with salt and pepper.
Roast for 25 minutes, or until tender and slightly browned, turning 1/2 way through cooking time with a pair of tongs to brown evenly. While this is roasting, prepare the leek. When the cauliflower is roasted, place aside on top of the stove in a covered dish to keep warm as the leeks roast.
Cut and clean the leek, reserving 1/2 of the green portion for great colour and more intense flavour. Chop into medium size bits. Toss in a large bowl with 1/4 cup of extra-virgin olive oil. Place on the same pans that roasted the cauliflower and sprinkle with sea salt and pepper. Roast until tender and slightly golden, about 25 minutes.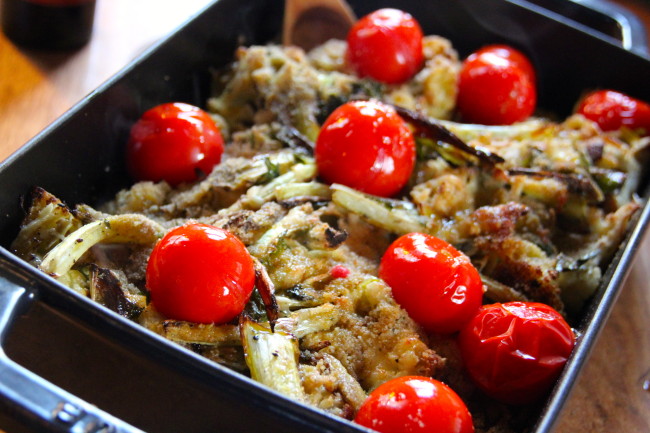 Toss both leek and cauliflower together when they are finished roasting and place 1/2 of it in a gratin or casserole dish. Layer 1/2 of the bread crumbs and 1/2 of the cheese on top. Repeat with the rest of the cauliflower/leek mixture, cheese then breadcrumbs. Top with tomatoes and place in the oven for 20 minutes. Drizzle with extra-virgin olive oil and serve!