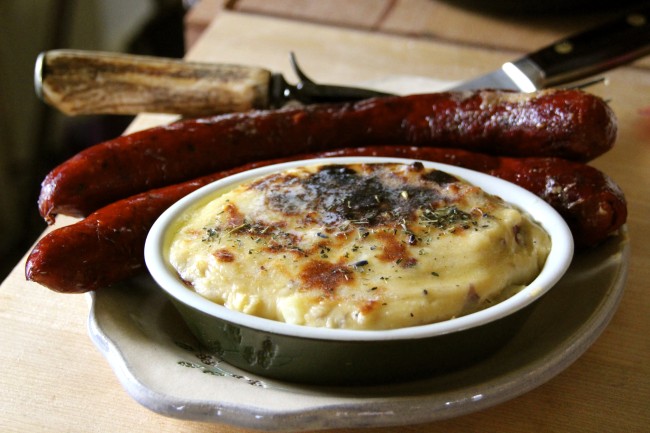 Here is a French dish of ancient origin. Traditionally made with the Tomme de Laguiole or Tomme d'Auvergne cheese, aligot is a French country speciality still served in the local gastronomy with sausage or pork. The cheese used in this recipe is not found in the states, so Cantal, Emmentaller, Comté or Gruyere can be substituted. A purist could not ague with the substitution of another French cheese as this dish was originally made using bread by monks and  tomme fraîche, Laguiole, or Cantal cheese and prepared it for the pilgrims on the way to Santiago de Compostela who stopped for a night in that region. Potatoes were eventually substituted after their introduction to France. To this day, it is enjoyed for celebrations as a main dish. A hearty winter's fair for the weary traveler…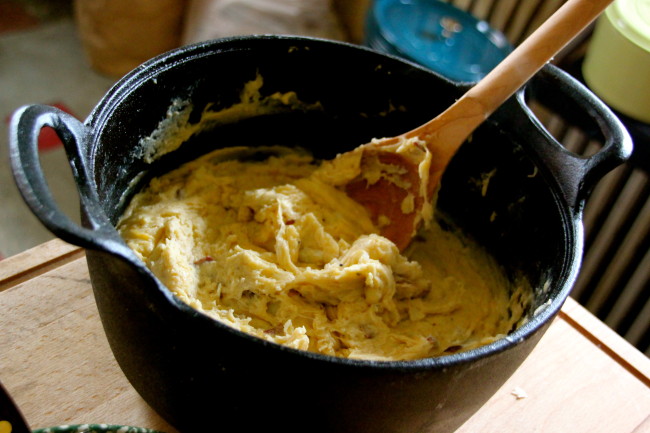 The Recipe!
2 pounds potatoes of choice (4 to 6 medium) I used Red Bliss for an interesting change.
Sea Salt
4 tablespoons butter
2 medium garlic cloves, peeled, smashed with the side of a knife and minced (about 2 teaspoons)
1½-2 cups whole milk
10 ounces Gruyere, Compté or Emmenteller cheese, shredded (about 2.5 cups)
Fresh ground black pepper
2 lbs of a nice hearty sausage (I used andouille), browned in advance.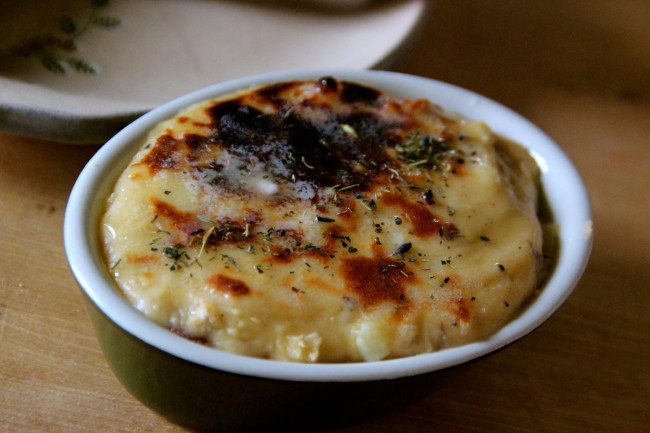 La Methode;
Pierce unpeeled potatoes with a fork several times, and in a 1000 watt microwave cook about 12 minutes (cover with paper towels) or until potatoes are tender.
Mash in large bowl with a good old fashioned potato masher until smooth (or process with a KitchenAid mixer or large food processor). Add cheese, garlic and butter, mash and fold in ingredients. Add milk, fold in well and season with salt and pepper. Serve immediately with a nice sausage, or place potatoes in individual serving oven-proof dishes topped with herbs de province and brown in the broiler.