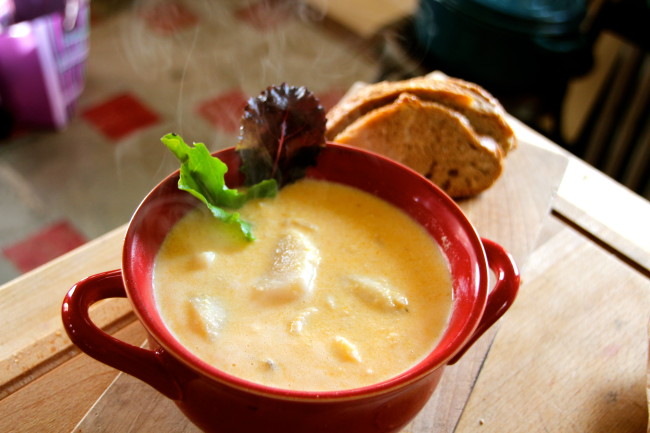 Creamy and delicate sole and scallop bisque will make you forget the howling bitter winds of winter. This is truly a delectable meal that begs to be served with a fine rustic French bread and a crisp, dry white wine.
The Recipe!
~~~~~~~~~~~~
4 cups of whole milk
1/2 cup of sour cream
8 tablespoons of butter
1 large sweet potato, peeled.
1 1/2 lbs of sole
1 1/2 lbs of large sea scallops
1 tablespoon of chicken base
Zest and juice of one lemon.
1 teaspoon of crushed coriander
Sea salt and Fresh cracked pepper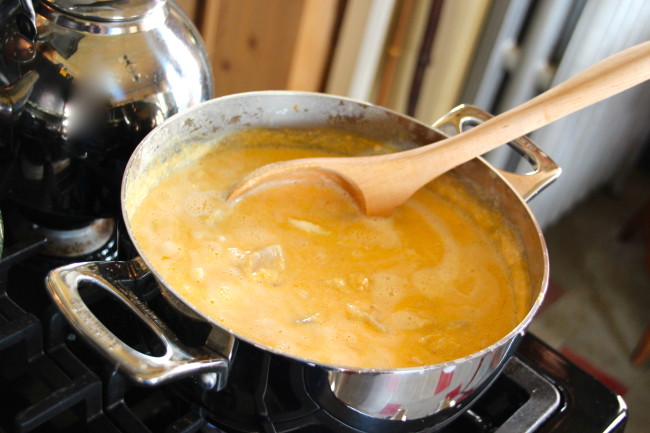 La Methode;
~~~~~~~~~~~~
Microwave a peeled sweet potato that has been pierced with a fork many times for approximately 9 minutes or until fork tender.
Meanwhile, place the milk, zest and juice of lemon, coriander, 4 tablespoons of butter, sour cream and chicken base in a medium (approximately 4 quart) pot over a low to medium fire. Whisk until well blended and then add sweet potato. Blend well with an immersion blender until smooth. Bring heat to low and add the fish. Stir occasionally and cook until the fish flakes, about 7 minutes. Add the scallops,  4 more tablespoons of butter and cook another 5 minutes, stirring occasionally. Taste and adjust seasoning with salt and fresh cracked pepper. Garnish with Herbs De Province and serve with French bread. Bon Appetite!