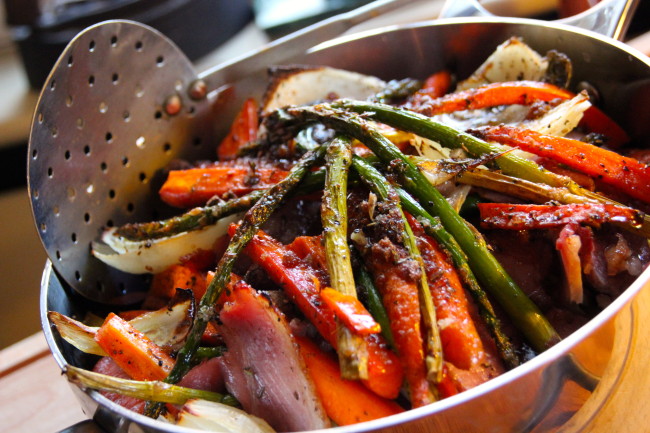 Oven roasted carrot, sweet onion and asparagus is joined with savory ham to make a fantastic spring dish. Left over ham from easter? this one's for you…
The Recipe!
2 1/2 lbs of carrots quartered lengthwise
2 1/2 lbs of sweet onion, quartered
3/4 lb of asparagus
1 – 1 1/2 lbs of cooked ham (thank you left-over Easter ham!)
Extra-virgin olive oil
Sea salt and fresh cracked pepper
Herbs De Province
3/4 cup of dark brown sugar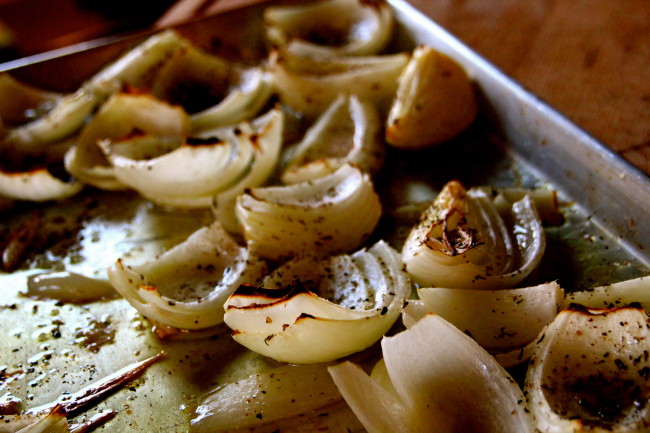 La Methode!
Pre-heat the oven to 425 degrees (F).
Toss all three vegetables in a light coating of the olive oil, a sprinkling of salt, pepper and herbs de Province.
Roast the vegetables in large baking trays until lightly charred, about 45 minutes.
Layer the vegetables with the ham in a 6 quart gratin dish or 6 quart dutch oven with the liquid from the roasting pans, sprinkling the brown sugar between layers and on top.
Place the dish bake in the oven and cook for another 15-20 minutes. Remove from the oven and toss gently to blend the juices. Serve with a crusty French bread!