I LOVE avocado. And I love it layered with either shrimp or a French mustard cream sauce topped with niçoise olives, anchovies or smoked salmon. Lets do Cinco De Mayo the French way…..
The Recipe!!
~ 1 large ripe avocado per person (see video on how to INSTANTLY ripen a hard avocado)
~ 1/2 lb of medium shrimp
~ Butter
~ Sour Cream
~ Niçoise olives
~ Anchovies
~ Sea salt and Fresh cracked pepper
~ Herbs De Province
~ Two fresh limes
~ One lemon
~ Stone ground French mustard
~ Worcestershire sauce
~ Fresh rosemary and Sage leaves
~ Extra-virgin olive oil
Cut avocado lenght-wise and scoop out in one piece with large spoon (as shown in video).
Make mustard sauce by mixing 3 heaping tablespoons of sour cream, two tablespoons of mustard and several drops of worcestershire sauce. Taste and adjust to your liking. Top avocado with sauce and and either, olives, anchovies, smoked salmon AND fresh ground pepper and Herbs De Province.
For the Shrimp avocado, sauté shrimp (medium flame) in two tablespoons of butter with 1 teaspoon of crushed fresh rosemary and sage, juice and zest of one lemon, pinch of salt and fresh cracked pepper. Cook shrimp for 3 minutes, or until slightly pink and not opaque. Remove shrimp from pan with slotted spoon and put aside. Add two more tablespoons on butter to the pan with two tablespoons of sour scream. Wisk well and place sauce on the shrimp on the avocado. Top with fresh cracked pepper and drizzle with extra-virgin olive oil.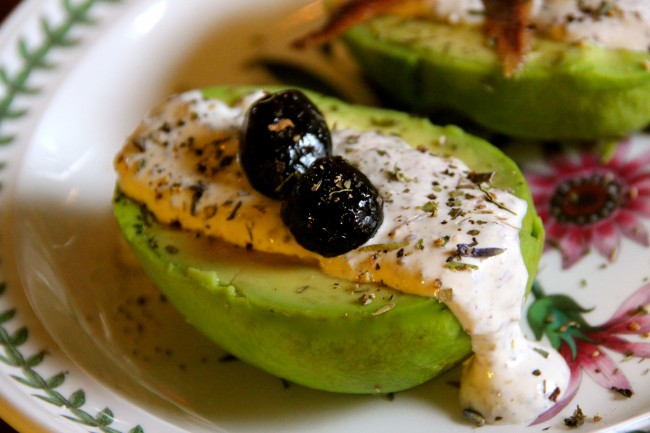 Avocado with French Stone Ground Mustard Sauce