Fire Roasted Baby Fingerling Potatoes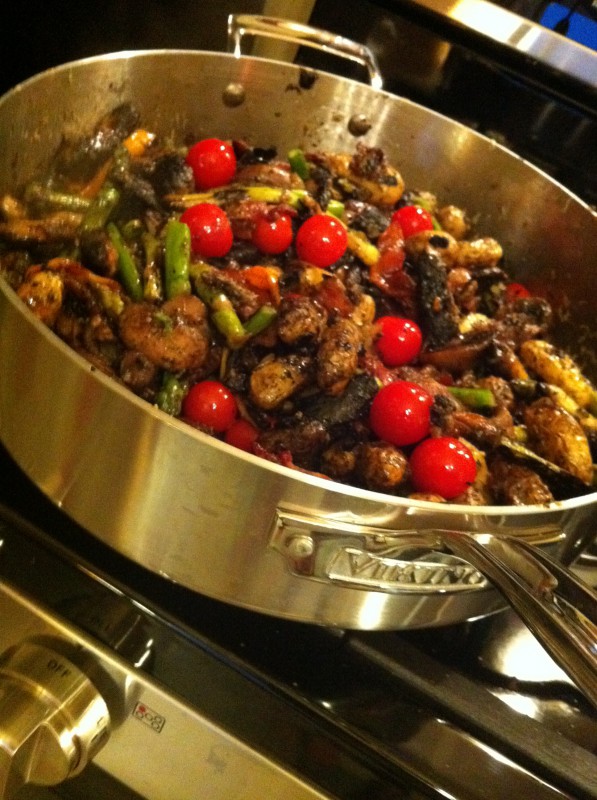 Gorgonzola Creme Fraiche Sauce
The Recipies!
Roasted fingerling potatoes and garden vegetables
7 cups of small/baby or fingerling potatoes
3 large vidalia onions
12-15 medium mushrooms of choice, halved
3-4 sweet red, yellow, orange or purple peppers, sliced into strips
2 bunches of asparagus, or equivalent of green beans
1 small bunch of scallions (optional)
1 lb of cooked bacon, diced
Appx. one dozen cherry tomatoes
5 tablespoons of extra-virgin olive oil
1 1/2 cups of freshly grated parmesan reggiano or 3/4 cup of commercial parmesan in a jar
Sea salt and fresh ground pepper to taste
2 tablespoons of fresh rosemary chopped fine
5 large leaves of basil, chopped fine
Chop onions and place in large pan with halved mushrooms and 2 tablespoons of butter. Saute until golden brown – about 25 min. It will look like a lot of onions and mushrooms before cooked, but they will go down considerably. Cover for the first 10-15 min of cooking.
Boil or microwave potatoes until almost fully cooked
Grill potatoes, peppers and asparagus and scallions until nicely charred. You can skip this step if time is an issue.
After onions and mushrooms are golden and well sauted, add remainder of vegetables, olive oil, salt, pepper, bacon and parmesan, rosemary and basil.
Stir and let flavours infuse on a low heat for 15 minutes.
~~~~~~~~~~~~~~~~~~~~~~~~~~~~~~~~~~~~~~~~~~~~~
Gorgonzola Creme Fraiche sauce for grilled meat.
1 cup of sour cream
1 cup of heavy cream or half and half
4-6 oz of Gorgonzola cheeze
Simmer heavy cream and sour cream on low heat for 10 minutes. Add Gorgonzola heese, salt and pepper to taste just before serving so that cheese can melt into sauce. If you find the sauce is too thick for your taste, stir in some milk till desired consistency.