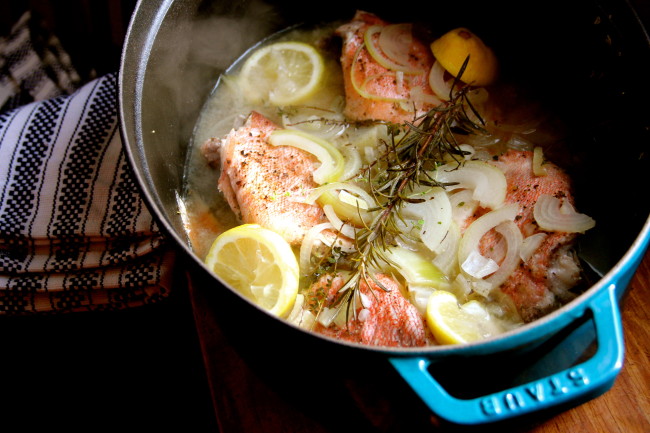 Sweet and tender Red Fish is lightly poached in white wine and herbs, served hot with fresh lemon or served chilled on French bread and drizzled with whole grain mustard sauce. Two winners, one dish.
The Recipe!
~~~~~~~~~
4-5 Red Fish (perch) about 1 1/2-2 lbs each.
1 cup of slightly dry white wine
2 cups of water
3 cloves
2-3 onions
Sea salt and fresh cracked pepper
3/4 teaspoon of fresh ground coriander
6-7 sprigs of fresh thyme tied in a bundle with two rosemary sprigs
La Methode;
~~~~~~~~~
Have your local fish monger clean the fish,(scale and gut including the gills) leaving the head on.
Pour the water in a pan with the herb bundle, coriander, clove, several grinds of pepper and a pinch of salt and bring to a boil. Remove from heat and let the flavours develop for 15 minutes to 1/2 an hour. Meanwhile sliver the onions.
Place the fish single layer in a large sauté pan or cast iron cocotte with the marinade, white wine and onion. Bring to a boil over a low to medium heat for 8 minutes. Remove pan from the stove and serve immediately with lemon, freshly roasted vegetables and French bread. Or you can let it cool and chill it in the refrigerator for the next day. Be careful to remove the small bones with tweezers. Serve room temperature on french bread drizzled with a 50/50 blend of whole grain French mustard and malt vinegar with a dash of honey as well as the jellied marinade and sprinkled with Herbs De Province. Two great ways to enjoy this simple, elegant rustic French seafood dish!