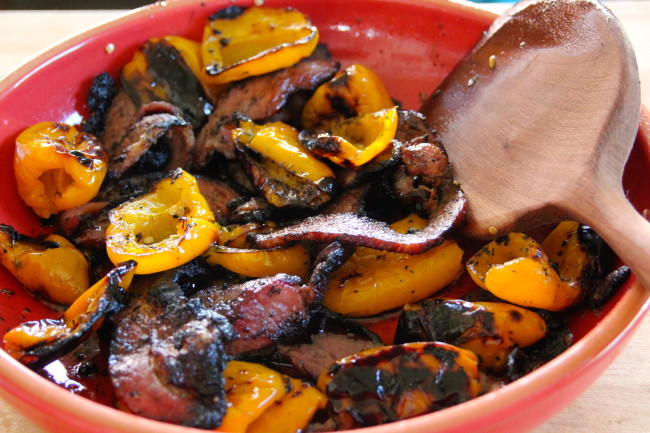 A beautiful savory killer dish that can be served at any summertime outdoor party (especially for the 4th of July!!) to much admiration. The reason?
A) It's grilled.
B) It involves bacon.
c) It involves bacon.
No typo here… Vive Le Bacon!!
The Recipe!
2 lbs of Natural, thick-cut (maple flavoured if available) bacon, strips cut in two. Lardon, or the French version of bacon is unsmoked and perfect for this recipe as it will be grilled and smoked, but this is very difficult to find in the states and so…. bacon it is!
4-5 sweet yellow peppers cut into 1/2 strips, lengthwise (I used baby sweet peppers)
1/2 cup of extra-virgin olive oil
1/4 cup of maple syrup
Sea salt and fresh ground pepper
Herbs De Province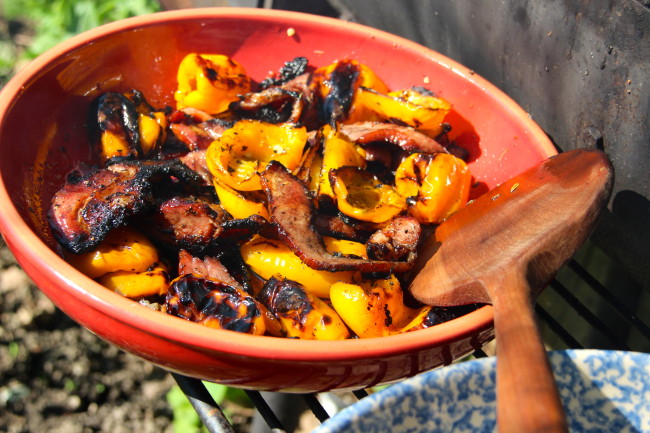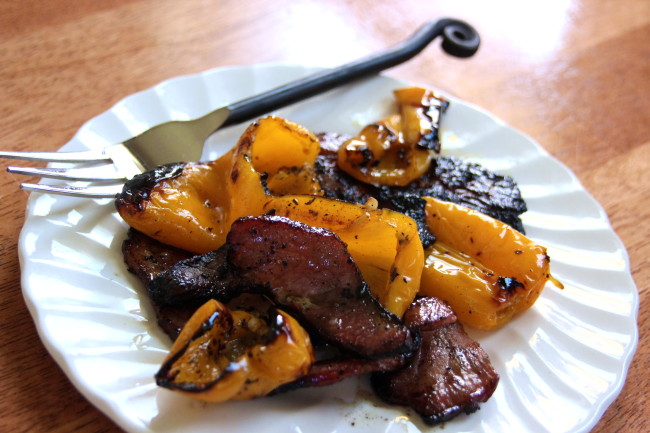 La Methode;
Toss sweet pepper strips in a large bowl with oil, a generous dash of salt and pepper and 2 tablespoons of Herbs De Province. Place in 2 grill baskets over a hot charcoal fire, tossing occasionally with thongs. When charred nicely, remove from the fire and place back in a large bowl.
Place bacon in same two stainless grill baskets and place over a hot charcoal fire. When the charcoal starts to flare from the melting fat, toss the bacon with tongs to cook evenly. When almost done, drizzle maple syrup over the bacon and continue to toss. Remove from fire when well coated and the syrup thickens on the bacon.
Combine the bacon with peppers, toss well and serve. This is good as a side dish with a fresh summer salad and French bread.