Rapée Stéphanoise
French Potato Pancake
Here is a great old French potato pancake recipe that is real comfort food that has shallots and mushrooms added for additional flavour. It's pretty amazing topped with the simple white cream sauce that a pair it up with. The simple "Salad Chiffonade" I paired it up with compliments the earthiness of the pancakes very nicely. Enjoy my friends!
The Recipe!
5 large potatoes (about1 1 1/2 pounds)
One large (size of a large egg) or three small shallots
Teaspoon of thyme and oregano chopped fine
4 eggs
5 button mushrooms chopped fine
2 teaspoons of sea salt
1 teaspoon of fresh ground pepper
Lots of butter! (for frying the cakes)
Sauce Blanc Aux Truffle
Sauce ingredients;
2 cups of crème fraîche or sour cream
Large pinch of salt
Few grinds of the pepper mill
1 1/2 teaspoons of finely chopped rosemary
Teaspoon of truffle oil or toasted sesame oil
3 tablespoons of chopped oil-cured black olives (used for topping once sauce in on the cakes)
Herbs de Province (optional- but good!)
Grate potatoes and squeeze out the moisture by handfuls. Lots of water will come out. Do this again after adding the chopped mushrooms and shallots – when they have been sitting in the bowl as you prepare the rest of the meal you will notice more water collect in the bottom of the bowl. Give the batch a second squeeze if necessary.
In a large bowl, combine potato, mushrooms, shallots, herbs, salt and pepper and two eggs. Let rest while you prepare the sauce.
In a saucier or small pot, add 2 cups of crème fraîche, teaspoon of chopped rosemary and teaspoon of truffle oil (toasted sesame oil my be substituted). Put on a low fire when the cakes are half way cooked and flipped over.
Pre-heat oven to 220 so that as the patties come off the fire, you can keep them warm in an oven-proof platter or dish.
Give a second squeeze to the potato mixture and stir in two more eggs. Heat 3 tablespoons of butter in a large lidded pan on low to medium heat. From patties by hand, not too thick and put in the pan. Cover and cook for 20 min on a reduced heat to low. Add 4 more tablespoons of butter and Flip and cook for another 20 minutes, or until both sides have a golden crust. As they come out of the pan, place on a platter in an oven pre-heated to 220 to keep warm.
When your family or guest are seated, take platter of cakes out of the oven (use mitts!!) and drizzle sauce over as well as sprinkling chopped oil-cured black olives over the sauce. Sprinkle herbs de province if desired. Save some for individual servings on a very low fire on the back right burner (made for sauces).
Salad Chiffonade
Prepare this the day before to save time – just DO NOT add the sweet vinaigrette to the lettuce. This should be the last step when the meal is on the table.
1/4 cup of extra virgin olive oil
2 tablespoons of balsamic vinegar
2 tablespoons of maple syrup
Pinch of salt and pepper.
Mix ingredients well and put aside. This can be made the day before to save time and can be kept at room temperature so that it blends better.
You may chop the lettuce well in advance – in the morning or day before. Chop as in video ( very easy!) in to ribbons by balling up a lettuce leaves one at a time (7-8 large leaves)
Drizzle sauce over lettuce before it goes to the table.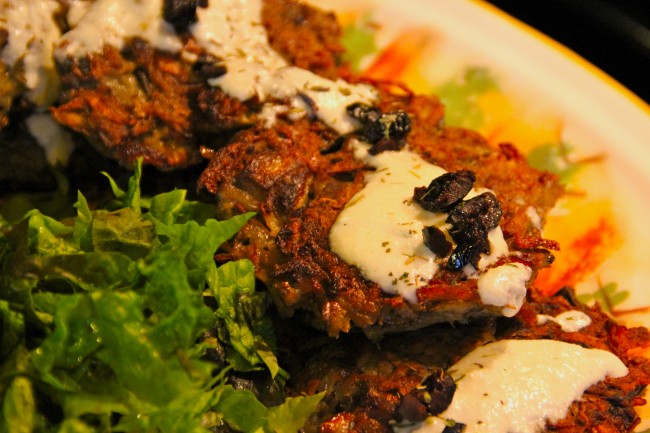 Rapée Stéphanoise