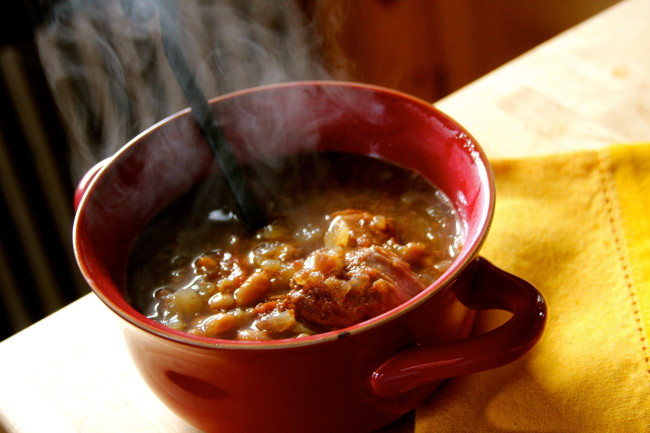 Lots of tender sweet onions with beans and garden tomatoes make the back drop for a phenomenal soup/stew infused with marinated pork. Slow cook this all day in a crock pot and you have a home filled with glorious aroma and a meal that begs to be shared with a nice crusty French Baguette.
The Recipe:
~~~~~~~~~~~~~~~~~~~~~~~~~~

2 cups of cleaned, dried navy beans
3 1/2 lbs of cubed pork (I used a pork shoulder) which can be marinated if desired in a dry rub of paprika, onion powder, garlic powder and fresh cracked pepper over night in the refrigerator.
9 cups of water
6 small or 4 large sweet onions diced
2 1/2 lbs of fresh garden tomatoes, cored or 1 1/4 cans (28 oz can) of ripe tomatoes
1/2 cup of brown sugar
1/2 cup of malt vinegar
2 tablespoons of salt
1 1/2 tablespoons of fresh ground pepper
1 1/2 teaspoons of powdered sage
1 1/2 teaspoons of powdered rosemary
1 1/2 teaspoons of powdered thyme
1 1/2 teaspoons of marjoram or oregano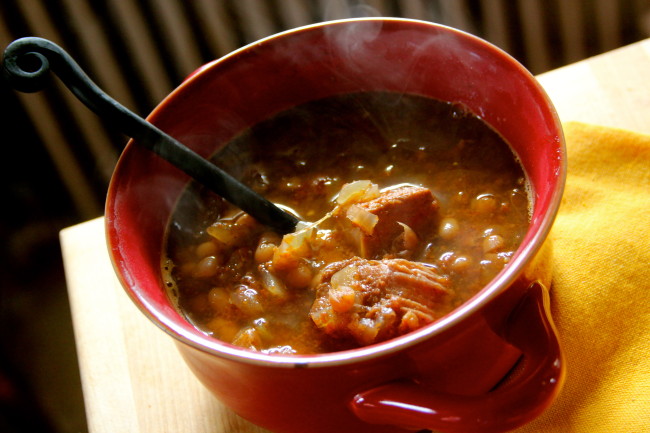 La Methode!
~~~~~~~~~~~~
This is the easy part. Place all of the ingredients into a large crock pot (at least 6 quart), stir well and place on a high heat setting for 4 hours, then low heat for another 4 hours. Stir a few times during the cooking. Place a cookie sheet under the crock pot for potential spillage.