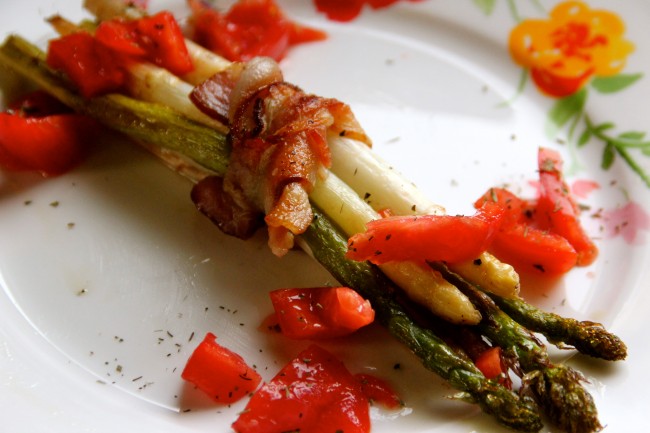 Amazing flavors with little effort on this beautiful asparagus recipe make a fine lunch or side vegetable. Make smiles around your dinner table when you bring this gorgeous presentation out to them.
The Recipe!
1 bundle of green asparagus
1 bundle of white asparagus
4 slices of bacon for recipe, plus 1 slice per serving
2 tablespoons of butter
2 tablespoons of extra-vigin olive oil
Sea salt and fresh cracked pepper
1 ripe tomato, diced finely
1 teaspoon of truffle oil
La Methode:
Use a vegetable peeler to peel the last 1/4 end of asparagus and cut off the very ends.
Dice a medium tomato, removing seeds first and drizzle with truffle oil, sprinkle lightly with salt and pepper and toss until mixed well.
Fry 4 slices of bacon until crisp, reserve fat in pan and crumble bacon.
Add 2 tablespoons of butter and 2 tablespoons of extra-virgin olive oil to melted bacon fat in a 12″ skillet. Heat on a low to medium heat and add asparagus. Cook until slightly golden brown.
Tie one piece of bacon around a bundle of 2 white, two green asparagus spears. Return bundled spears back to pan and cook bacon tied around spear, turning it as it browns.
Plate spears and sprinkle with crumbled bacon and garnish with diced tomatoes. Fantastique!