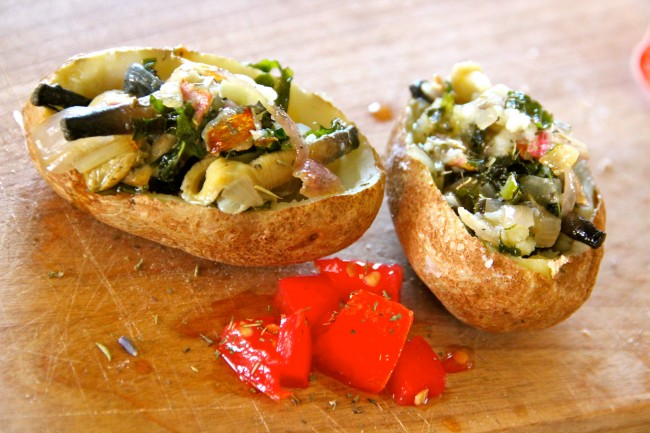 Small roasted potatoes are filled with tender, sweet clams with a tarragon butter sauce. Another fine example of showcasing the succulent gifts of the sea.
The Recipe!
~~~~~~~~~~~~~
3-4 small (about 3 inches long) potatoes per person, oven roasted (375 degrees for 35-40 min)
2 lbs of steamer clams, steamed and cleaned.
1/4 cup of butter
1/4 cup of tarragon, chopped fine (can use sage instead)
1 shallot chopped fine
Fresh racked pepper
La Methode!
~~~~~~~~~~~~~
Cut top of roasted potato off and carefully scoop out flesh, leaving about 1/4 inch of flesh inside.
Place butter, shallot and tarragon (or sage) in sauce pan and sauté until shallot is golden over a low to medium fire. Add steamed clams to sauce for another 2 minutes.
Spoon clams and sauce in each potato, top with fresh cracked pepper and garnish with chopped fresh garden tomato.