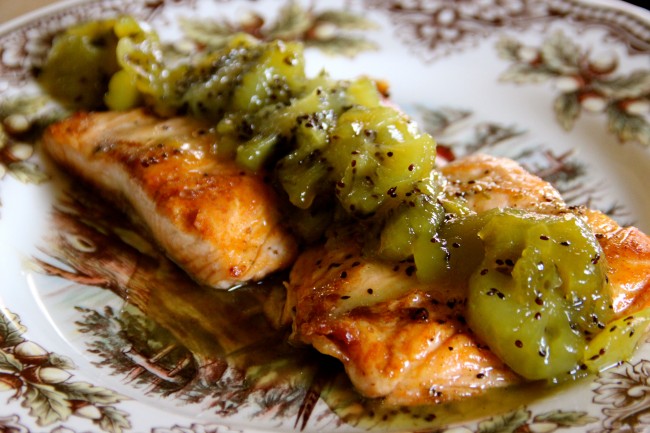 Fresh pan seared Atlantic salmon is seasoned, then topped with a Kiwi lime reduction sauce. Dine by the sea tonight. Don't forget the candles and romance. C'est L'amour.
The Recipe!
Recipe is for 4 people. Add one fillet per person for more servings and increase sauce components by 1/4 per extra serving.
3 kiwis, peeled and cut into slices
1/4 cup of water
Zest and juice of one lime
1 heaping tablespoon of honey
2 tablespoons of butter
4 fillets of salmon
Pinch of salt and fresh cracked pepper
Make sauce first by adding first 5 ingredients in a small saucier pan on a low to medium fire until it becomes almost the consistency of a thin honey. This will take 30 minutes.
Cook fish in a hot pan with 3 tablespoons of butter, one tablespoon of extra-virgin olive oil. Sprinkle coarse sea salt and fresh cracked pepper on the flesh side of the fish and place skin side down first for 2 minutes. Turn fillets gently and sear flesh side for another 2 minutes. Remove skin and place that side of fish down in the plate (the other side is a tempting golden colour). Top with sauce on individual plates. Bon Appetite!!