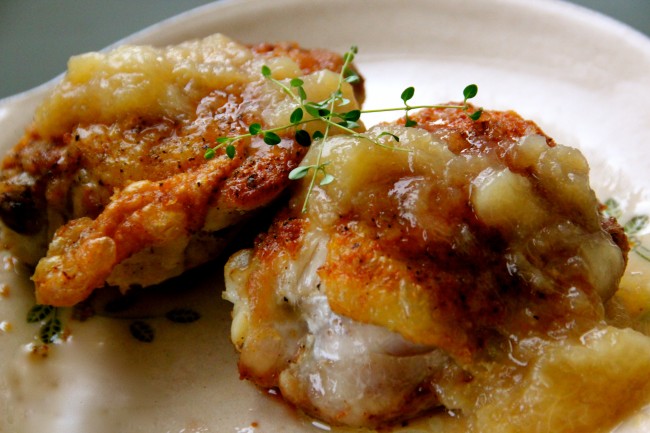 Nectarine Chicken is inspired buy the fresh flavours of the early summer. Cooking in season is so important for the reasons that you can support your local farmers markets, enjoy the freshest of flavours and obtain organic produce. This is how humankind cooked and ate up until relatively recently. What was in season is what you ate because it was available. Not a bad tradition to continue as we have been doing this for thousands of years!
The Recipe!
6 chicken thighs (with bone and skin)
Butter and extra-virgin olive oil for frying chicken

Salt and fresh cracked pepper
4 nectarines, sliced
1/4 cup of water
1 teaspoon of Worcestershire sauce
1 tablespoon of honey
1 tablespoon of butter (for sauce)
The Sauce.
Place last five ingredients in a small sauce pan and simmer on low to medium heat until reduced – about 20 minutes. Stir occasionally.
La Methode.
Sprinkle chicken with sea salt and fresh cracked pepper on both sides. Brown chicken in a large pan skin side down first on a low to medium heat with 2 teaspoons of butter and 2 teaspoons of extra-virgin olive oil. Turn after about 10 minutes. Cook another 6 minutes, or until done.
Top chicken with sauce and garnish with thyme sprig.