Here is a fantastic French country comfort meal that goes back multiple generations in our family. This is a glimpse into the real French country style of cooking that few are allowed to see.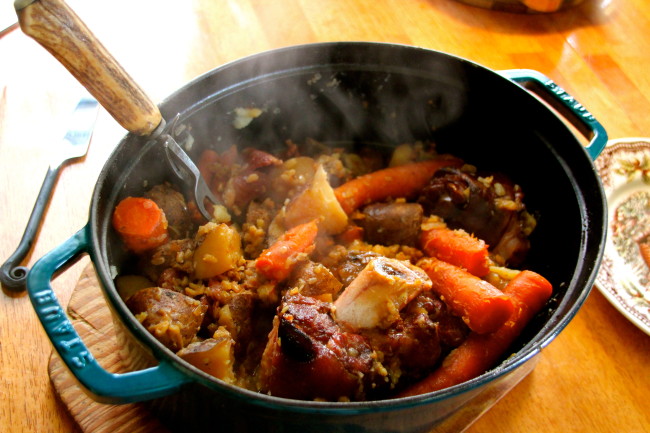 The Recipe!
2 1/2 lbs small red or white potato
2 lbs carrots
2 lbs peeled and coarsely chopped shallots
2-2.5 lbs ham (from a shoulder is best)
1 3/4 cups of burgundy wine
2 smoked ham hocks
1/2 cup barley
1/2 stick of butter
4 tablespoons of extra virgin olive oil
2 teaspoons of sea salt
2 teaspoons of fresh ground pepper
La Methode;
Melt butter in a large flame and oven proof 6-7 quart cast iron dutch oven like a Staub, Lodge or Le Creuset over a low to medium fire. Add oil ad shallots. Sauté until translucent, stirring, about 3 minutes. Layer the potatoes, ham hocks, carrots and ham. Add wine and barley.Sprinkle sea salt and pepper. Cover and reduce heat to low. Cook for 2-2 1/2 hours, or until the potatoes and carrots are tender. Stir gently several times during cooking, especially scrapping the bottom with a spatula so that the sticking is kept to a minimum. 
Voila!! Serve with a nice crusty French bread and hearty red wine like a Châteauneuf-du-Pape.