Tender sautéd chicken and sweet pepper is wrapped in fresh garden cucumber and toped with French cheese. The explosion of summer flavours has arrived.
The Recipe!
~~~~~~~~~~~~
One large fresh garden cucumber sliced into strips with a vegetable peeler or knife.
Several chicken thighs sautéd in butter and cut into strips (can be done in advance)
One sweet orange pepper sliced and lightly sautéd (can be done with chicken in advance)
Soft French cheese such as Chaource or Brie
Herbs De Province
Lemon Juice
Toasted sesame oil
Sea Salt and fresh cracked pepper
Mixed Greens
Extra-virgin olive oil
Toasted sesame seeds
La Methode;
~~~~~~~~~~~~
Place strips of chicken and sweet pepper across one slice of cucumber. Roll and secure with toothpick.
Place a large dollop of cheese on the roll and place in the broiler until cheese melts.
Sprinkle with lemon juice, toasted sesame oil, toasted sesame seeds, Herbs De Province, a touch of sea salt and fresh cracked pepper.
Place on a small bed of mixed greens tossed with extra-virgin olive oil.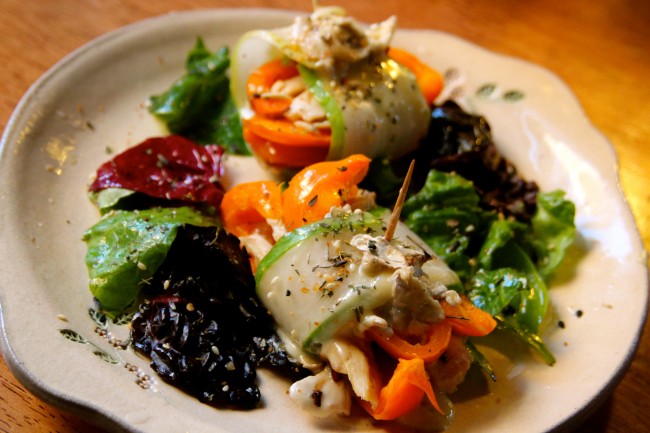 Concombre Aux Poulet