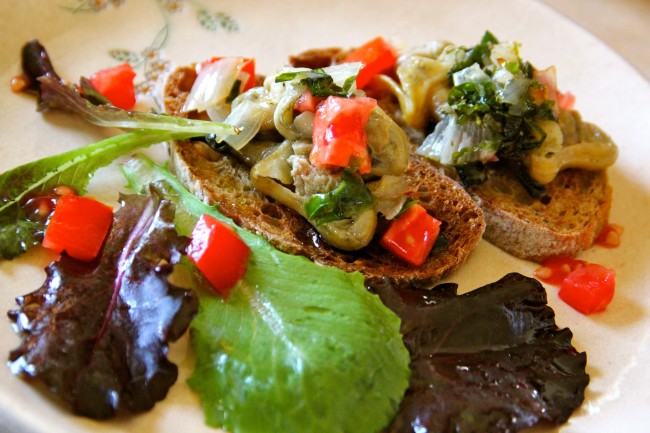 Sweet and tender clams are sautéd in a French Pistou sauce and placed on crunchy whole grain toast. Simple pleasures of the sea.
The Recipe!
~~~~~~~~~~~~~~
2 lbs of steamer clams, steamed and cleaned from shell.
Whole grain of French bread, toasted
One ripe garden tomato, finely diced
Seas salt and Fresh cracked pepper
Herbs De Province
For the Pistou Sauce;
~~~~~~~~~~~~~~~~~~~~~~~
One shallot chopped fine
1/4 cup of fresh copped sage
1/4 cup of extra-virgin olive oil
Pinch of sea salt and fresh cracked pepper
La Mehtode;
Sauté shallot and basil in the oil over a low to medium heat until the shallots are slightly golden.
Add clams to sauce – about 4 per slice of toast and heat gently for a few minutes.
Place clams and Pisou on toast and garnish with a few pieces of diced tomato.
Add a touch of sea salt, fresh cracked paper and Herbs De Provence.