French bread is the canvas for the taste of summer. Use farm stand or garden tomatoes for real tomato flavour. You won't believe how gorgeous the fusion of a few simple ingredients can produce. An explosion of summer flavour, French style.
The Recipe!
One French Bread or Baguette. I used a cheese French Bread! French Blue cheese or Stilton of choice – there are so many varieties! Dried onion flakes Toasted sesame oil Fresh cracked pepper Sesame seeds Sea salt Onion powder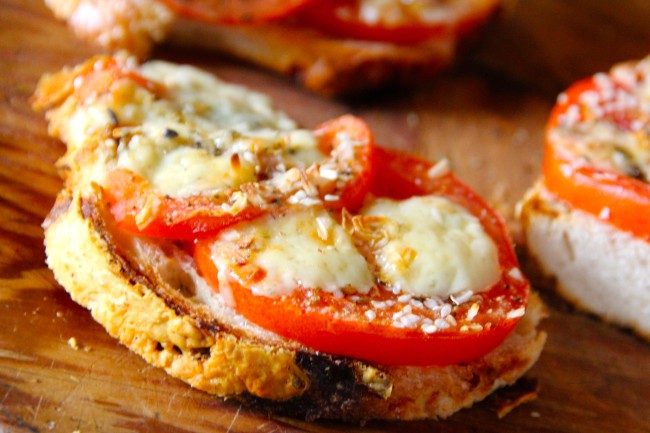 La Methode
Pre-warm oven to 350 degrees.
Slice bread on a slight diagonal for effect.
Sprinkle slices with onion powder and top with tomato slices.
Drizzle with toasted sesame oil and sprinkle a touch of salt.
Add crumbled blue cheese to liking and sprinkle with dried onion, sesame seeds and fresh ground pepper.
Place in pre-warmed oven until cheese is slightly melted, about 10 minutes.
Enjoy!!!