What to do with a leftover roasted chicken? Here it is…..a healthy one pan delight!!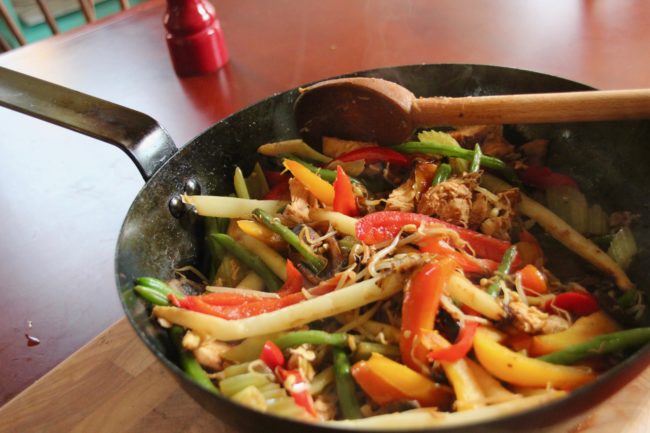 The Recipe!
2 celery ribs
1 lb of asparagus
1 large shallot
2 red peppers
1 package of bean sprouts (7 oz)
1 large leek
1 lb of green bean (Haricot Vert)
3 cups of leftover chicken, sliced into pieces
butter + extra-virgin olive oil
1 1/2 /b of mushrooms (pre – sautéed in butter and a pinch of salt)
 
Sauce ingredients ;
1 cup of chicken stalk
1 tablespoon of soy sauce
3 tablespoons of white wine
salt and pepper
1 1/2 cups of instant potato flakes
La Methode!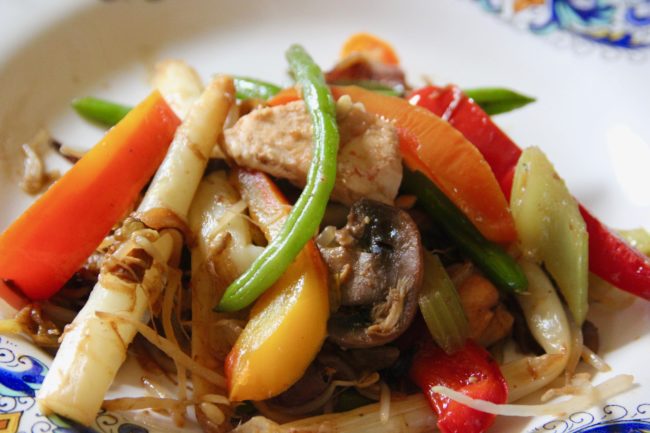 Chop shallot, pepper and leek into strips.
Place 2 tablespoons of butter, 2 of olive oil in a LARGE pan ( 14 in chefs pan works well – see video) on a low to medium meat.
Place the shallots and asparagus in the pan and cover. stir occasionally cooking for 10 minutes
Meanwhile, start the sauce place all of the ingredients (minus salt, pepper and potato flakes) and heat on a low to medium fire, in a few minutes, add salt and pepper to taste. Add 1 cup of potato flakes. Add more potato if not thick enough. Keep on very low fire.
Add the rest of the vegetables and chicken to the asparagus and shallot and cook for 10 minutes stirring occasionally, adding the sauce in the last five minutes.
Enjoy!