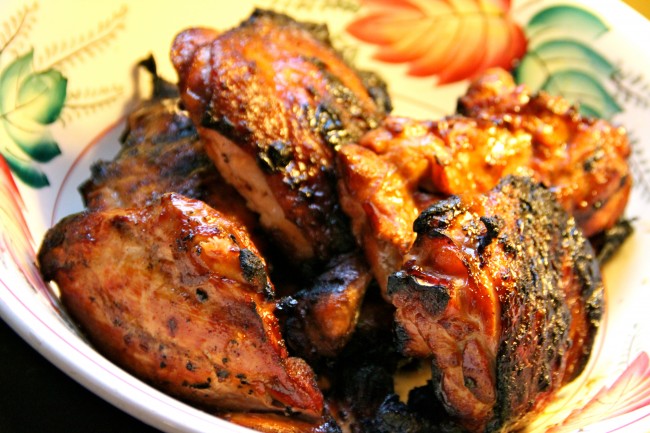 Tender, marinated grilled chicken is really one of the best ways to use your charcoal grill. Make some people say "WOW" and go for this easy treat.
The Recipe!
~~~~~~~~~~~
6-8 chicken thighs (with bone and skin)
The Marinade:
~~~~~~~~~~~~~
Water
1 cup of cider vinegar
2 1/2 cups of brown sugar
1/4 cup of Worcestershire sauce
4 tablespoons of pickling spice
1/2 cup of soy sauce
5 tablespoons of toasted sesame oil
La Methode:
~~~~~~~~~~~~~~
Fill a large stainless steel pot 1/4 with cold tap water. Add marinade ingredients and whisk well. Add chicken, cover and marinade overnite or at least 10 hours. Turn chicken, mixing marinde several times while marinating.
Place a 6×9 foil pan in the center of grill where the charcoal is to be placed, and surround pan with the charcoal for indirect cooking method. When charcoals are hot place chicken above pan so that the melting fat does not hit the charcoal causing a flare-up and burn the chicken. Close and the grill and open vents to maximum. Turn chicken when browned, about 14 minutes each side.