The Recipe!
Gruyère Crème Fraîche Pasta
Ingredients:
~ 1 cup of sour cream
~ 1 cup of heavy cream
~ Salt and pepper to taste.
~ Finely diced red poblano pepper, deveined and seeded.
~ 4 strips of cooked bacon ( 4 minutes in microwave on oven safe plate lined with paper towel). You can do this the day before to save time. I keep cooked bacon in my freezer so that I can use as needed.
~ Toasted sesame seeds. This can be done days in advance – place two tablespoons of sesame seeds on a piece of foil and bake in 350 oven until golden – about 10 minutes)
~ Pasta of choice. Yep that easy, but don't use any kind of spaghetti.
Chop 4 strips of cooked bacon finely.
Make crème fraîche sauce  by adding 1 cup of heavy/whipping cream to 1 cup of sour cream in a bowl and mix well.  A more traditional way is to add 3 tablespoons of buttermilk to one cup of heavy cream.  

Let it sit over night  

on the kitchen counter in a bowl 12-24 hours, covered with plastic wrap. This will last in the refrigerator for a good 10 days.

Boil 3-4 quarts of water in a large pan. Meanwhile place crème fraîche in a small sauce pan and heat on very low.
Chop pobalno pepper, and place about 1/4 teaspoon in sauce, or according to desired heat level for spice.
Add one tablespoon of toasted sesame seeds to sauce.
Grate 1/4-1/2 cup Gruyère cheese and stir into sauce. I like to use more – at least 1/2 cup.
Add salt and pepper to taste.
Whisk in roux if sauce is too thin.
Cook pasta to package direction and drain.
Put on individual plates and top with sauce, a few pieces of diced poblano pepper, bacon and sprinkle dish with sea salt and fresh ground pepper. Garnish with sage or parsley.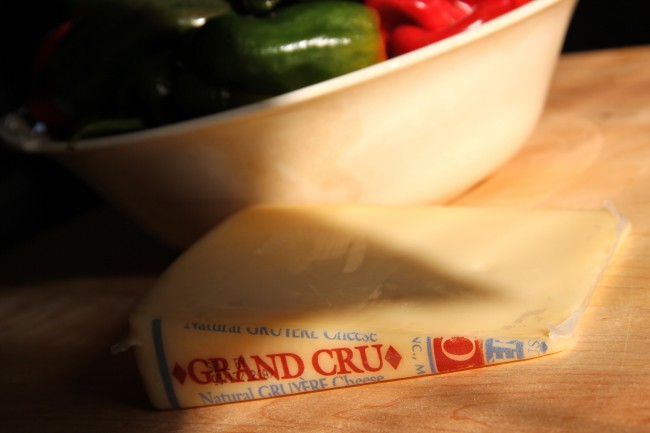 Gruyère cheese for making a velvet crème fraîche sauce