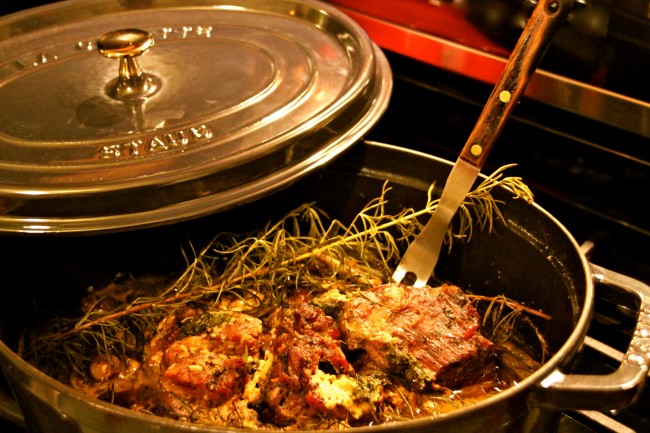 Here is a savory way to welcome the Fall into your kitchen with the beautiful scent of herbs slowly roasting and the rich yet light sauce of the beef juices (Boeuf Au Jus) lightly infused with cream cheese and fresh herbs. Bon Appetite!
The Recipe!
~~~~~~~~~~~~
1 chuck roast (about 5 lbs.)
2 leeks, trimmed leaving 1/2 of the greens and cleaned (cut in two length wise and rinse)
1 lb of white mushrooms
1/2 cup of fresh sage chopped fine
1/4 cup of fresh thyme
Baby spinach leaves
8 oz of whipped cream cheese
Sea salt and fresh cracked pepper
Dried onion flakes
Extra virgin olive oil
Butcher's twine
2-3 sprigs of rosemary
8.5 covered dutch oven
La Methode;
~~~~~~~~~~~~
Fillet the chuck so that it is rolled out in a a long strip as in the picture.
Pre-heat oven to 230. Spread whipped cream cheese, sprinkle salt, pepper and dried onions, herbs and layer with baby spinach leaves. Roll slightly firmly, not too much to squeeze out the layered ingredients, but fairly tight and tie with butchers twine. Place 1/4 cup of extra virgin olive oil on the bottom of the pan, place roast spiral side up, leeks and mushrooms in a large 8.5 quart dutch oven. Drizzle olive oil, fresh cracked pepper, onion flakes, sea salt and fresh cracked pepper on top. Place rosemary sprigs on top. Cover and bake for 6 hours, or until beef is tender.