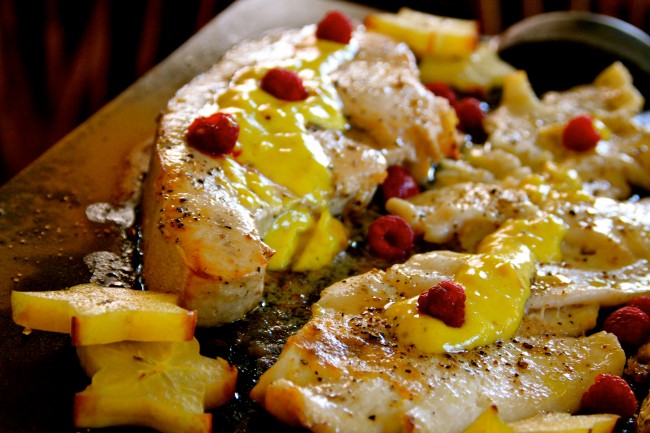 A fantastic very traditional meal from Provence, France. Aioli sauce is a beautiful, rich sauce that goes well with any kind of seafood, but traditionally with a fine sweet delicate fish such as whiting.
It's also eggplant season! So I celebrate with grilling and then baking this beautiful vegetable with some fine french cheese and mushrooms.
The Recipe!
Aioli Sauce
~~~~~~~~~~~~~
3 egg yolks
1 cup of extra virgin olive oil
3 tablespoons of French or dijon mustard
Pinch of salt and pepper to taste
1 shallot, copped fine
For this recipe use any fish you would like, preferably a delicate sweet sole. Use one large fillet per person.
La Methode;
~~~~~~~~~~~~
Place chopped shallot in a mortar and make into a paste using a pinch of sea salt and a few grinds of the pepper mill.
Place shallots in a bowl with 3 egg yolks and blend well with a whisk. Slowly incorparate the oil, a few drops at a time to emulsify, whisking briskly. After a few tablesppons have ben added slowly, drizzle the rest in and wisk as you do until blennded well. Add mustard and sea salt and fresh cracked pepper to taste.
Grill fish on a grill pan for about 6 minutes on a moderate charcoal heat with the grill top down, seasoning it with sea salt and pepper, turning it caefully halfway through cooking time. Fish will flake easily when done. Top with aioli sauce and serve immediately.
The Recipe!
~~~~~~~~~~~~
Aubergine Cocotte
~~~~~~~~~~~~~~~~~~~~~~~~~~~~
One large egplant (about 1 1/5 lbs), peeled for better texture and sliced into 1/4 inch discs.
1 lb of white mushrooms
16 oz of whipped cream cheese
1/4 lb of your favorite french cheese, grated
Extra virgin olive oil
Sea salt and pepper
1/2 cup of flavoured bread crumbs
1 stick of butter, melted
La Methode;
Saute mushrooms whole in butter until slightly browned on a medium fire – about 5 minutes. Put aside.
Blend whipped cream cheese and grated cheese well in a large bowl with a spatula or your hands.
Coat eggplant slices well with extra virgin olive oil and sprinkle with salt and pepper. Grill both sides on a hot charcoal fire until slightly charred. Alternate methode is to pan fry them until slightly tender in extra virgin oilve oil.
Pre-heat oven to 400.
Place eggplant slices in casserole dish, placing a large dollop of cheese between slices, stacking the slices a little off each slice by about 1/2 inch so that it runs the length of the pan in two rows (as seen in picture). Place dollops of cheese on top of eggplant. Top with bread crumbs and mushrooms. Cook for about 15-20 minutes and drizzle melted butter over egplant and mushrooms just before serving.