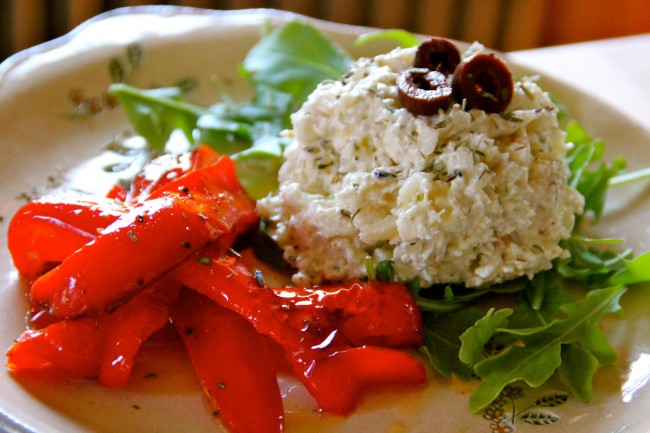 A fantastic summer time dish that takes the light and delicate flavour of yellow tail or sole, sautéed and folded in to whipped cream cheese, lime and Herbs De Province. Sauté sweet red peppers in extra virgin olive oil to accompany and summer never tasted so good. 
The Recipe!
1/2 l/b yellow tail flounder or sole
Zest and juice of 1 lime
1 cup of whipped cream cheese
2 teaspoons of Herbs De Province
Sea salt and fresh cracked pepper
Butter
Extra-virgin olive oil
1 large red pepper sliced into strips
La Methode;
Sprinkle fish lightly with salt and pepper. Place in a heated pan on a low to medium flame with 2 tablespoons of butter, two of extra-virgin olive oil and cook each side for 3 minutes or until it flakes easily.
Place fish in a large bowl and mix with cream cheese, lime zest and juice and Herbs De Province. Blend gently with a fork and spoon, scoop and place on baby greens. Garnish with Nicoise (oil cured black) olives.
Place sliced red pepper in the same pan that you cooked the fish and add a few tablespoons of extra-virgin olive oil, a pinch of sea salt and fresh cracked pepper. Saute on low to medium fire for 5 minutes. Serve with Fish. A light white wine would add beautifully to this great summer lunch or light dinner as well as a fine crusty French bread.