An amazing seafood offering where delicate fillet of sole is topped with a velvety French sauce that has to be witnessed. Combine this with the fresh flavours of my garden vegetable recipe and perhasps a glass of champagne to make a complete gastronomique experience.
The Sauce;
Sauce Bernier Canard (Deux)
3 tablespoons of duck fat (saved from a roasted duck and kept in the freezer until needed)
1 shallot chopped fine
1 teaspoon of finely chopped rosemary
2 tablespoons of butter
1 tablespoon of flour
1 cup of WHOLE milk
Sea salt and fresh cracked pepper
1 teaspoon of paprika
La Methode:
Melt 3 tablespoons of duck fat in a saucier pan over a low to medium fire. Add finely chopped shallot and rosemary. When shallots are translucent, add flour and whisk well until smooth. Slowly whisk in milk until sauce is a creamy consistency. Simmer on low, stirring frequently and season with a few pinches of salt and pepper to your taste.
The Recipe!
1 fillet of sole per person
Butter and extra-virgin olive oil for frying
Sea salt and fresh cracked pepper
La Methode:
On a low to medium fire, melt 1 tablespoon of butter with one tablespoon of oil. When butter and oil are bubbling, lightly season fish with salt and pepper and fry for 3 minutes. Flip and cook another 2 minutes. Add more butter and oil with each batch of fish. Top with sauce and serve immediately.
~~~~~~~~~~~~~~~~~~~~~~~~~~~~~~~~~~~~~~~~~~~~~~~~~~~~~~~~~~
Summer Squash with Vinegar Sauce
Julienne two small yellow summer squash and toss with a sauce of:
1/4 cup of extra-virgin olive oil
1/8 cup balsamic vinegar
1 teaspoon of Herbs De Province
1 tablespoon of honey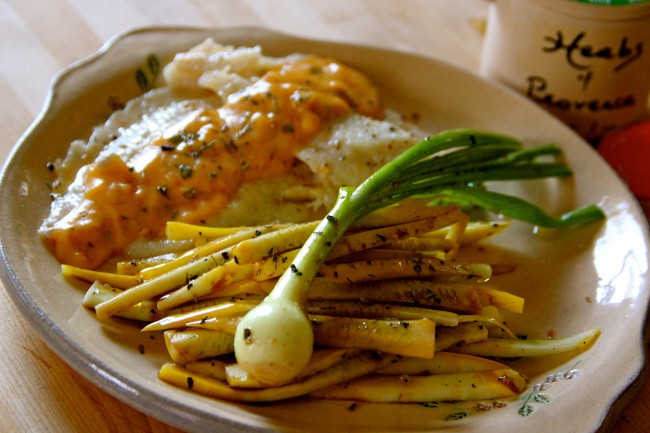 Poisson Aux Sauce Bernier Canard