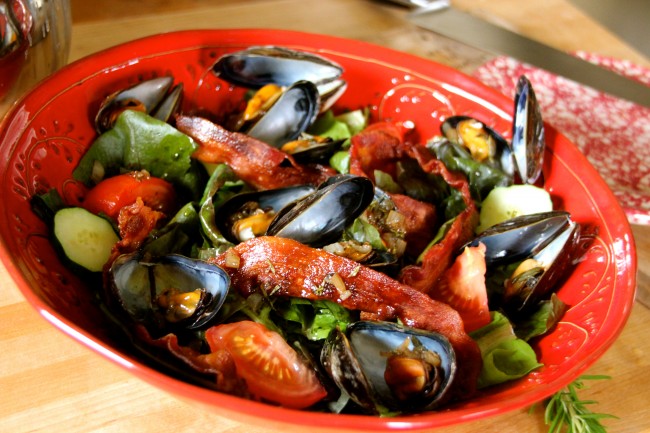 Direct from Provence, this delicious summer offering can be found in tiny bistros in the country side, or in my grandmothers cookbook. The sauce defies description as it brings the flavours of this gorgeous salad to a new level. Enjoy with a champagne and let the world go by….
The Recipe!
The sauce:
Sauce Bernier Lardon (Deux)
3 tablespoons of the rendered bacon/lardon fat
1 shallot, chopped fine
2 teaspoons of fresh chopped thyme (1 teaspoon dried thyme)
2 teaspoons of worcester sauce
1/3 cup extra-virgin olive oil
Pinch of sea salt and fresh cracked pepper
Place first 3 ingredients into a small saucier pot on a medium-low fire until the shallots are translucent. Add next two ingredients and lower to low fire for 5 minutes. Taste and adjust with a pinch of salt (if necessary and pepper)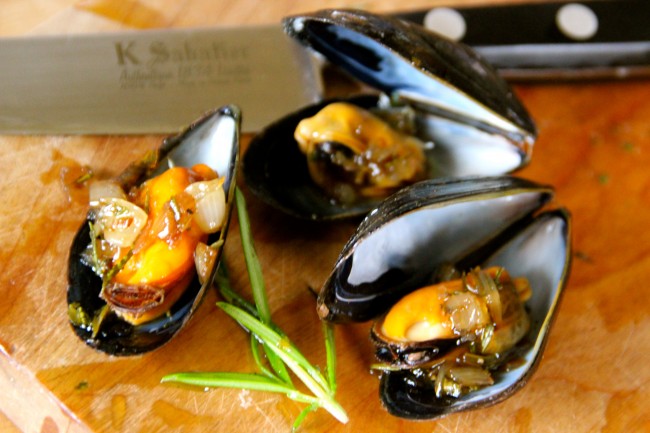 La Methode;
2 lbs of mussels (steamed in white wine for 5 minutes. No More!)
1 lb of lardon or bacon, cooked with the fat put aside for sauce.
Large mixed green salad
One tomato cut into fine wedges
One small picking cucumber, sliced
Fill large bowl with greens, tomato wedges and cucumber. Top with chopped cooked bacon with a few pieces kept whole for presentation and mussels (you will have some left over – place in a bowl next to salad to add to individual plates). Drizzle salad with sauce and serve. Champagne or a light white wine goes well with this!