Pork is an essential meat in French cuisine, and when it's marinated overnight – it's killer. Now simmer it gently in white wine and it's crazy. Now, coat it with an orange zest infused maple syrup and I just don't have the adjectives to properly describe gastronomique heaven. Go for it.
The Recipe!
Roast Pork with Maple Orange Glaze
~ 4 lbs. pork shoulder
~ 1 cup of maple syrup
~ 1 large orange
~ 1 cup of white wine
Marinate for pork
~ 2 cups of brown sugar
~ 1 cup of  red wine
~ 1 cup malt vinegar
~ 1 cup of soy sauce
~ 2 tablespoons of lime juice
~ 2 tablespoons of TOASTED sesame oil
~ 3 tablespoons of worcestershire sauce
~ Sea salt and cracked pepper to taste
~ enough water to barely cover the meat when all the ingredients are placed in the pot
Cut the shoulder into large chunks (approximately 4 inch pieces) and place in a pot  with marinate ingredients overnight in the refrigerator. The next day, when ready to cook, place meat in a large covered pan with 1 cup of white wine and 2 cups of the marinate. Simmer on a low heat for 1 1/2 hours. Add more wine if liquid reduces too much.

 
For the Orange Maple sauce;
Zest a whole orange in a small saucier pot with the juice of that same orange and one cup of maple syrup. (this sauce is good on ANYTHING!) Place on a very low fire o the back right sauce burner (smallest burner). Let thicken, this takes about an hour.
After meat is cooked (1+1/2 hours on a low simmer), drain off liquid and place glaze over meat and cover on a very low flame. Toss meat and cook another 15 minutes, stirring occasionally to coat the meat. Place meat in a nice platter and pour off sauce on top of meat.
Young Summer Squash with Carrots and Shallots
~ 6 small young summer squash, cut into thick strips
~ 6 carrots cut into thin strips
~ 5 shallots, diced
~ 1 cup of beef consume or broth
~ Fresh cracked pepper to taste
~ Large pinch of salt
~ 3 teaspoons of butter
~ 2 tablespoons of extra-virgin olive oil
Sauté shallots and carrots in a large covered pan with the butter and oil on a low-medium heat for 20 minutes. Add squash, consume, salt and pepper and cover, cooking an additional 20 minutes, tossing vegetables on occasion. How easy?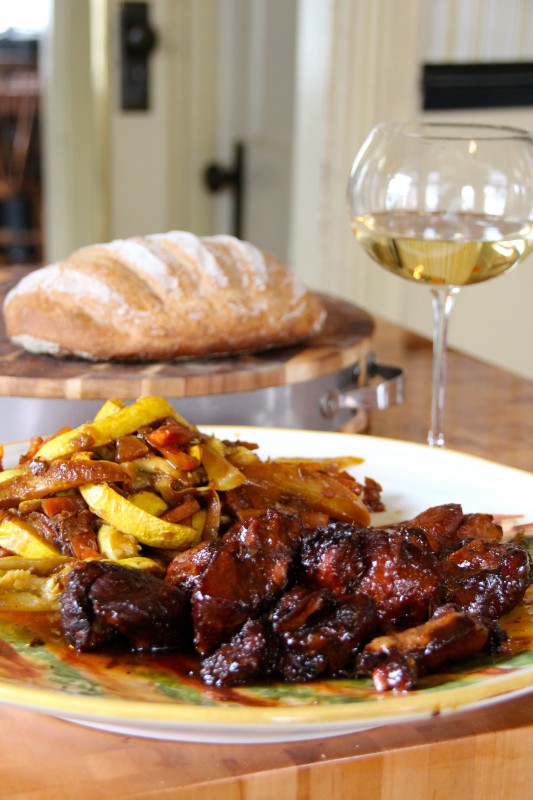 Rôti-de-Cochon-à-lorange