Wow! Rustic Country French bread is combined with shallots, mushrooms, sour cream and large shrimp for a gratin like you've never had. Luscious French country comfort food is now ready for you to experience. Amazing flavours in less than an hour…
The Recipe!
~ 7 cups of rustic french bread chopped into small cubes (about one loaf)
~ 1 cup of chicken stock
~1/2 cup of dry white wine
~ 5 large shallots or two large onions chopped
~ 2 lbs of mushrooms, chopped medium cut
~ 2 lbs of large shrimp
~ sea salt and fresh cracked pepper
~ 1 teaspoon of thyme
~ 2 tablespoons of butter
~ 2 tablespoons of extra-virgin olive oil
~ 5 heaping tablespoons of sour cream
Pre heat oven to 350.
Saute onion and mushroom with a large pinch of salt and several grinds of the pepper mill in a large covered pan with butter and extra-virgin olive oil. When slightly browned, add bread,thyme, chicken stock, wine, sour cream and shrimp. Shut off heat and mix well. Place in a large gratin dish and place in pre-heated oven for 30 minutes. Drizzle with extra-virgin olive oil before serving. Serve with salad and dry white wine.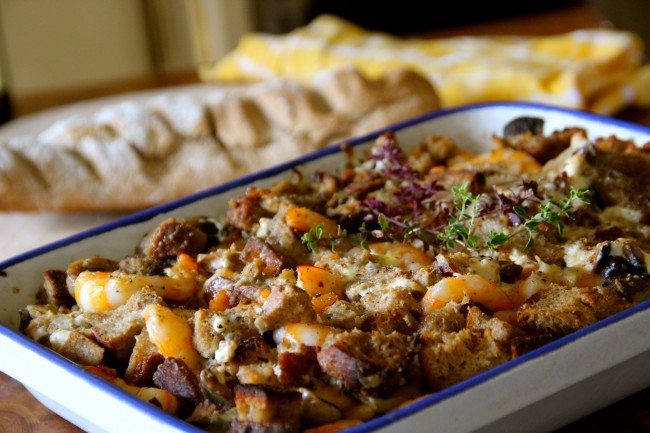 Pain Francais Au Crevettes