Here, yellow pepper is spiraled and sautéed in shallots and whole mushrooms. Then it is stuffed with pan seared chicken in an orange, lime and honey sauce. Seriously amazing combination of flavours. Yep, you can do this in 30 minutes.
The Recipe!
~ 6 oz of boneless, skinless chicken thighs, cut in two, lengthwise.
~ 1 orange
~ 4 key limes or one regular lime
~ 1 yellow pepper per person (recipe designed for 4-6 people), spiraled. Cut off stem and spiral cut the pepper about 1 inch thickness
~ 2 large shallots
~ 1 lb of whole mushrooms
~ Sea salt and fresh cracked pepper
~ Honey
~ Extra-virgin olive oil
~ Butter
~ 1/2 cup of white wine
In a covered large sauté pan, sauté whole mushrooms and sliced shallots in 1 tablespoon of butter and 1 tablespoon of extra-virgin olive oil until tender on a low to medium heat. About 1/2 way through cooking time, gently place spiraled yellow peppers in pan. Shut off heat when done if chicken is not yet ready.
Meanwhile in another large skillet, heat 2 tablespoons of butter and 3 tablespoons of extra-virgin olive oil on a low to medium heat. Add a pinch of salt and pepper to each piece of chicken and place in pan. Zest a whole orange over the chicken and place the juice of that orange over chicken. Cut key limes in two (quarter large lime), squeeze out juice and place lime in pan. Turn chicken when browned (about 5 minutes) and brown other side. About 2 minutes before chicken is done, drizzle it with a few tablespoons of honey. Remove chicken from pan and deglaze pan with 1/2 cup of white wine. Let reduce to 1/2 of volume, or until slightly thickened.
Place about 2 chicken strips in each pepper, top with shallots, mushrooms and orange lime sauce.
The flavours here are seriously amazing. Your family and friends WILL talk about it for days (if they have any sense

).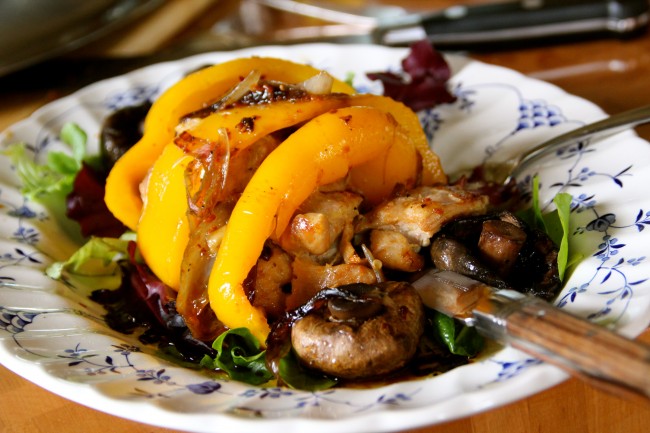 Poulet Au Poivron Juane