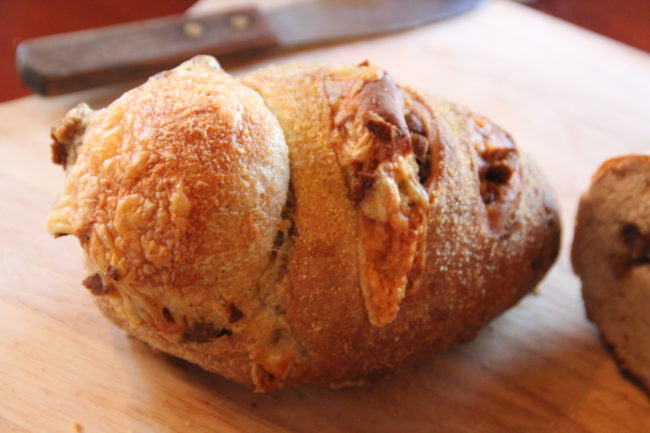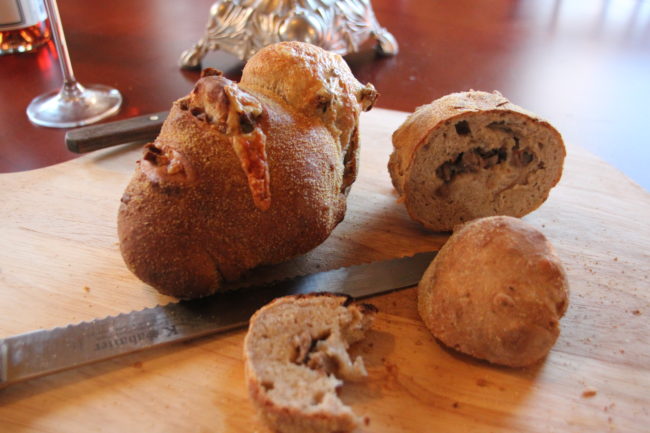 What a heartwarming way to start your weekend…never mind fill your home with the greatest aroma of all time!!
Hint- Make the bread dough about 4 hours before you would like to bake your bread as it takes this long for it to rise.
Hint #2 – You will need a bread baking stone or steel for your oven (I use a cast iron round pan from Lodge that has 2 handles on it – its the BEST!!)
The Ingredients ;
One 12 oz package of Bratwurst, Andouille or other sausage of choice
10 OZ of Emmental, Gruyere or cheddar cheese, shredded.

2 tablespoons of butter, 1 tablespoon olive oil
Bread ingredients;
1 + 1 /2 tablespoons of sea salt
1+3/4 tablespoons of yeast
3 cups of luke-warm water
4 cups of unbleached flower
1 +1/2 cup of whole wheat
Mix first 4 ingredients together in the bowl of a stand mixer and blend together with a whisk for 15 seconds ( this will help to activate the yeast)
Add the rest of the ingredients to the bowl and stir using the dough hook on a low speed until well blended (about 3 min.)
Transfer the dough (should be slightly sticky) to a LARGE warm bowl and cover with plastic wrap. Put the bowl in a warm place in the kitchen. (I put mine on a chopping board on my old-fashioned cast iron radiators).
Let rise for 4 hours.
Putting it all together!!
You may now sauté the onion and sausage in a pan with the butter and oil until the sausage is nicely browned. One cooled, dice the sausage. Put the mixture aside until the dough is ready to stuff.
Pre-heat your oven to 450 degrees
Take a piece of dough about the size of two baseballs together and knead/fold of a floured surface. Flatten it so that you can place 1/4 cup of cheese and 1/4 cup of diced sausage in the center (re-heat the filling for 35 seconds in the microwave first). Fold the dough over the sausage and cheese and press closed. Place the breads of the hot stone folded side down for approximately 35 – 40 minutes or until the bread is a medium golden colour. Let cool for 1/2 hour and enjoy!!