I consider myself to be very lucky. Proof of that was the fact that I got to meet and spend some time chatting with the greatest chef of our time. His name is Jacques Pépin. Jacques is the last of the great chefs, born in a time when his training made him who he is. No nouvelle  cuisine back then. Very strict and rigorous training, with the highest of standards demanded of you to become the best the world had to offer. When Jacques first came to the states from France,  he could have worked anywhere because of his training, work ethics and knowlege – including the finest establishments . And that's exactly what he got.
They'll be not another Jacques, ever. He is the last of the truly Great Chefs from another time. This is why I listen to what he says, follow his tricks of the trade and make hie recipes. His words are my kitchen gospel. Trust me, I know what's out there…
Oh, by the way Jacques, I have a blueprint for your next series. "French Chef, American Apprentice". Of course I would like to interview for the apprentice part. I even do all of my camera work, video sequencing, editing and sound man. Not a bad deal….oh, and yep, I know my way around the kitchen.
The Recipes!!
Jacques Snacks!
I've put together some of Jacques favorite things to make one of the most elegantly simple and "oh-my-gosh that's amazing" blend of flavours.  Serve it hot and watch your guest drop to the floor after taking a bite. Thank you Jacques (again) for the inspiration.
Rustic French Bread
4 cups of unbleached flour
1 1/2 cups of whole wheat flour
1 cup of rye
3 cups of lukewarm water
1 3/4 tablespoons of yeast
1 3/4 tablespoons of sea salt
3 tablespoons of roasted sesame seeds
Combine water, salt and yeast in KitchenAid bowl. Add flours and sesame seeds.
Use dough hook attachment on low for 2 minutes, or until well blended. Place dough in a large bowl covered with Saran wrap in a warm place for 2 1/2 to 3 hours.
Cut a piece of dough off as in video and dust with flour. Shape into a ball and place on a cutting board that was dusted with corn meal. Score top as shown in video. Place in on a pizza stone ( I use a cast iron one from Lodge – thank you Howard Heller!!) in a 425 degree oven for  35 -40 minutes.  Spray water on the surface of the bread with a spray bottle, or put 3/4 of a cup of hot water in a metal pan (that was heating up with your pizza stone) when putting the dough in the oven.
The meal!
Chop one small shallot and put aside. Slice a nice piece of bread from the cooling loaf.  Butter both sides and brown in a pan on the stove. Meanwhile, place a few large sea scallops in a medium heat pan with butter and brown both sided. Break a large egg in a low heat pan. Add a generous dollop of sour cream to the center, add a sprinkling of finely chopped shallots, and break the yolk with one small poke. As the egg cooks, fold the egg on to itself so that it matches the bread size. Add  a touch of sea salt and fresh cracked pepper to egg as well as 1 teaspoon of finely chopped shallots. Do not over cook egg. When still soft, place on toast and top with scallop. Sprinkle with grated Gruyère cheese and a touch of truffle oil if desired and add basil for garnish and flavour.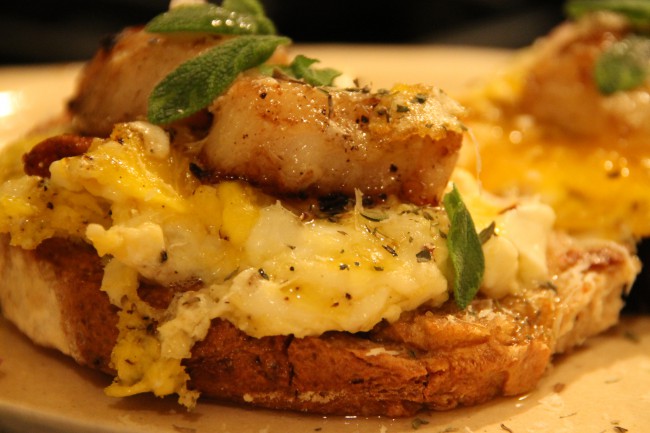 A dish in honor to the most historically significant chef of our time.