Crispy garden cucumber is marinated and then topped with crumbled blue or feta cheese on a toasted cheese roll. Summer has arrived!!
The Recipe!
1/2 medium cucumber sliced thinly
Crumbled blue or feta cheese
1/4 cup of extra virgin olive oil
1/8 cup balsamic vinegar
1/2 teaspoon Herbs De Province
3 tablespoons of maple syrup
Pinch of sea salt and freshly cracked pepper
Zest and juice of 1 lemon
La Methode:
Combine last six ingredients and whisk well. Add sliced cucumbers, toss well, cover and refrigerate at least one hour, overnight is best. Place cucumber on toast (I used Asiago cheese roll), crumble desired amount of cheese on top,  drizzle with extra-virgin olive oil (I used black truffle oil) and garnish with fresh sage leaves. Voila!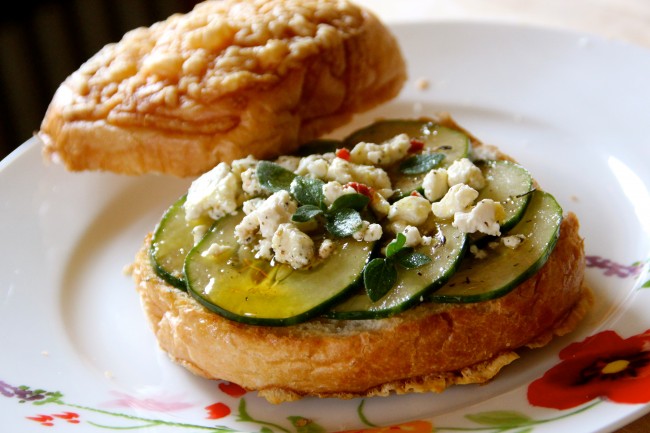 Toast Concombre