Here is a sumptuous and healthy pasta dish that could be served at any bistro or little French village restaurant. Leeks are very popular in French cuisine as well as mushrooms. Add Emmentaller or Gruyere cheese and it's pasta like you've never had.
The Recipe!
~ 1 10 oz package pasta of choice (I used Hodgson Mill's Organic Whole Wheat Pasta with Flax Seed)
~ 3 Lb of leeks
~ 1/2 lb of mushrooms (quartered, or large chop)
~ 4 tablespoons of butter
~ Black oil cured olives for garnish (optional)

~ 2 cups of shredded cheese such as Emmentaler, Gruyère or even Parmesean or Cheddar.
~ Sea salt and fresh cracked pepper.

Pasta with Leeks and Mushrooms
Rinse leeks as seen in video (they contain a lot of dirt usually), then chop off half of the green, leaving half of the green on the white portion. Chop coarsely and sauté in a large pan on a medium fire with 4 tablespoons of butter, a tablespoon of sea salt and lots of fresh cracked pepper and cover. Add coarsely chopped mushrooms after 15 minutes of sautéing, and cook another 10 minute while pasta cooks. Stir often.
After pasta is cooked to direction, drain well, place in a large bowl and add a few tablespoons of extra-virgin olive oil. Mix with leeks and mushroom and shredded cheese. Garnish with pitted black oil cured olives.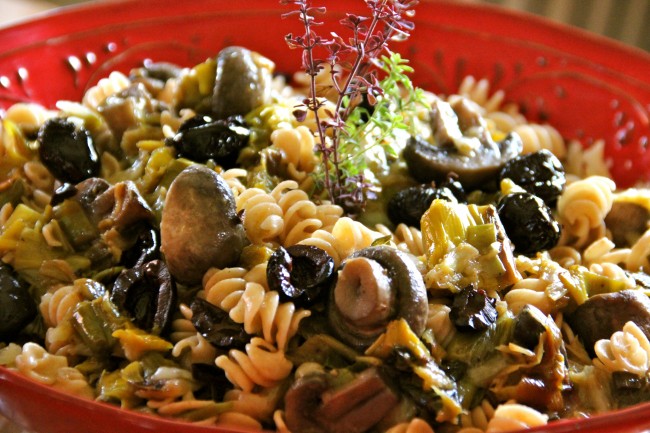 Pasta with Leeks and Mushrooms